Innovative Solution and Ink idea Ltd. has been covering the printing needs since 2006, for corporate marketing, retail events, promotions, and trade shows in the Baltic States, in Russia and within different EU countries. As one of the leaders in large format digital printing in the Baltic region, we aim to provide higher quality services and products while being affordable.
We offer a wide range of large scale format printing from our UV technology printers to textiles printing. From design, to printing and finally installation, we are here to assist you. In Riga office we employ 16 people. From the start of operations we have printed 500 000 sqm of different kind of products. Our sales teams are providing the after sales support and are here to assist you at any time.
Design
Thanks to our very diverse team we offer tailor custom solutions to fill every needs of our customers. Our designers are here to assist you and to allow our customers to make the best of their files as well as to provide the most professional advice. Our designers can create your logo or design, remodel it and/or help you with correcting your files. We are here to support you throughout all the necessary steps towards excellent product.
Printing
Our printing experts have extensive knowledge and know how in the printing industry. From textile to PVC banners, they offer their expertise and know how in order to produce the best quality products fast and reliable way.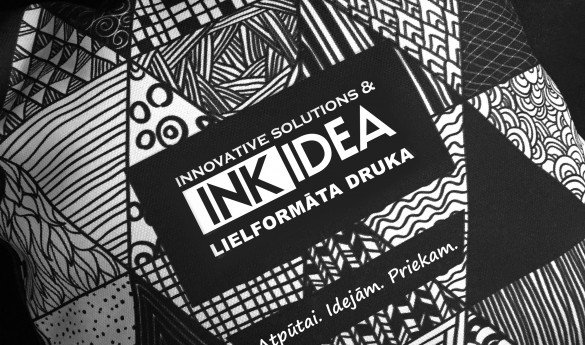 Always here to assist you!
Our printing equipment:
Textile printing (dye sublimation) with up to 3.2 meter wide printers. We are able to offer large scale textile 

printing such as flags, frontlit/backlit textile banners.

With 3.2 wide UV printers, we are able to fulfill almost any printing needs ranging from wood, plastic to 

pvc material.

Eco solvent high speed printers allows us to provide high quality stickers at lower cost.
Installation

Our installation team is here to provide full installation services. For a banner installation, car stickers, or anything else – our team is here to support you.